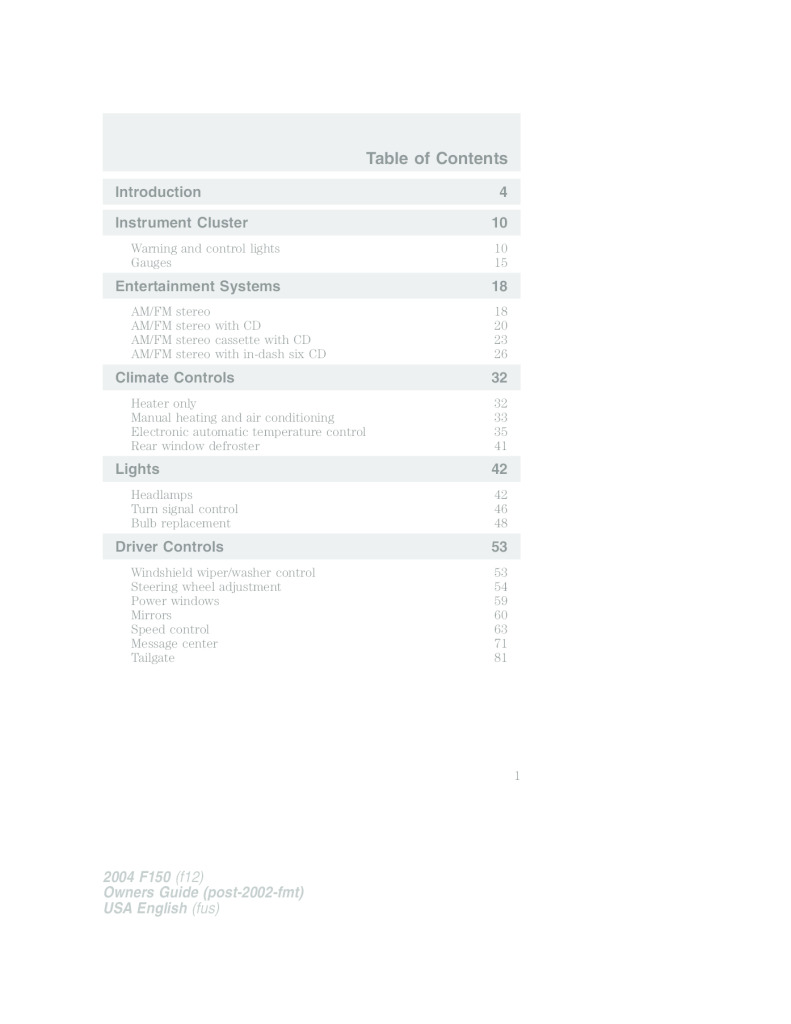 View Fullscreen
WHAT'S NEW FOR 2004
Even tougher – F-150's fully boxed frame is approximately nine times stiffer torsionally than its predecessor, providing the foundation for improved durability, driving dynamics, and ride refinement and quietness. With a maximum tow rating of 9,500 pounds and maximum payload capacity of 2,900 pounds, the new F-150 is the most capable full-size pickup under 8,500 pounds.
New interiors – Custom environments have been developed for each series. The initial "wow factor" is supported by substance that makes F-150 a pleasure over the long run.
More spaciousness – Regular Cab and SuperCab models have a passenger compartment that is 6 inches longer, providing more space inside for occupants and their gear. For SuperCab models, that extra length means increased rear-seat comfort for three adults in the rear seat. For Regular Cab, it means 13 inches of secure storage space behind the seat.
Easy access – Reflecting consumer demand for ease of access for people and cargo, Regular Cab models feature new, class-exclusive access doors that open up new stowage possibilities behind the seat.
New engine technology – Ford's new 5.4-liter, 3-valve Triton™ V-8 engine produces 300 peak horsepower, a 15-percent improvement over the previous award-winning 5.4-liter engine, along with improvements in low-speed and peak torque and greater fuel efficiency. Smooth, quiet and refined, it also contributes to the quieter cab environment.
Stronger stance and style – The new F-150 features an all-new design, with a bold exterior shape that reflects Ford truck toughness and capability. The refined interiors take the full-size pickup to a new level of comfort and refinement.
Superior driving experience – Tremendous attention to detail and engineering advancements — such as the new outboard rear shock absorbers and wider rear leaf springs — have been applied to the chassis of the F-150 to deliver a confident, capable driving experience.
Safety – The new Occupant Position Sensing technology for the first-row passenger makes the 2004 F-150 a strong choice for safety. It exceeds rigorous new federal safety standards for air bag and offset crash performance.
Cargo capacity – The new F-150 cargo box is more than 2 inches deeper, with greater cargo volume. Plus, a class-exclusive new standard Tailgate Assist feature helps owners of all statures more easily open and close the gate.